Am/Intl BIS/Can BOSS CH Ivorys Czar of Mountainview
"CZAR"
MCOA Gold Health Award
OFA hips good, OFEL, CERF, OFA heart, thyroid and patellas, cystinuria negative, vonWD normal.
PRA/DNA normal, CMR1 clear.
Stud Dog Info
Frozen Semen Available
Click here for link to Deb Jones stud dog site

Czar's wins with limited showing
AOM 2004 MCOA National Specialty
AOM 2004 Canadian National Specialty
AOM 2004 PNMF Supported
BOS 2003 PNMF Supported
WD 2002 PNMF Supported
Multiple Group Wins 2003-2004
Reserve BIS Intl 2003
Best in Show Intl 2003
Best Puppy 2001 Working & Herding Specialty

I came to Mountainview Mastiffs from a far and distant land.....Ferndale, about 20 minutes away!
I've heard that my furry Grampa was a big dog named "Gargoyle".
I began my show career when I was twenty months old.
I earned my American title with five 3 point majors in 6 consecutive shows , (one reserve)... taking breed over specials at the start and finish!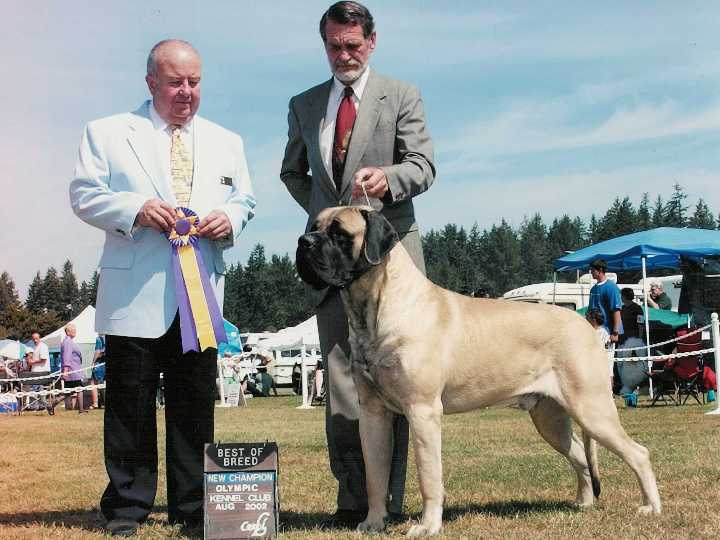 Gary and I had lots of fun...and boy, were mom and dad proud of me!!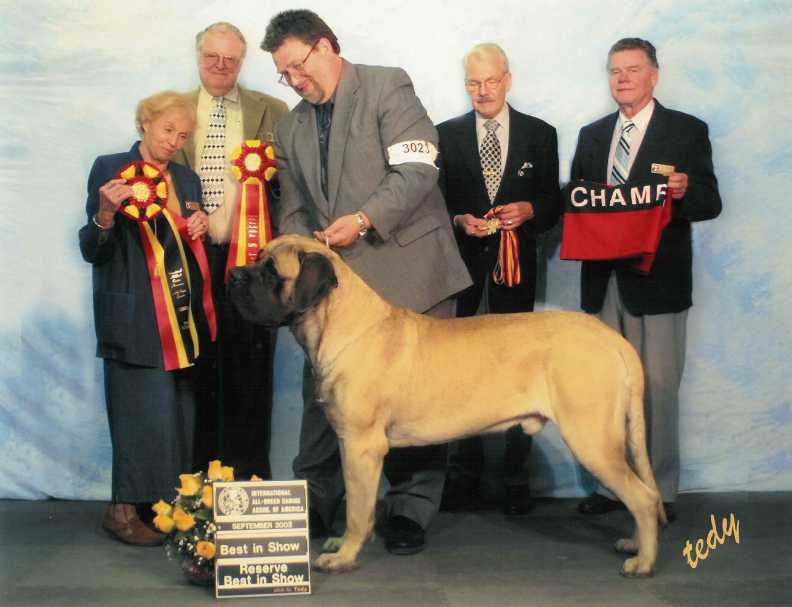 Here I am with Dad getting Best In Show & Reserve Best In Show.
I wondered why there was so much cheering and hollering going on, Mom even cried!
But all the judges sure were friendly and asked a lot of questions about me!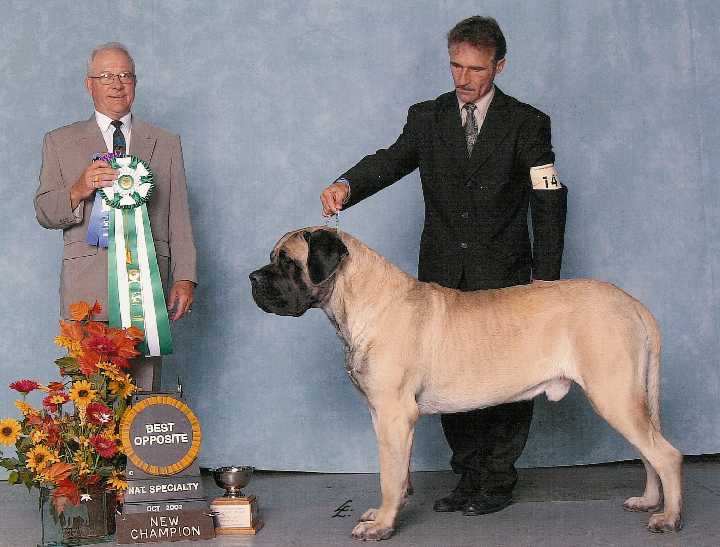 I love going to Canadian shows....here I am with my buddy "Guy".
They say I did really good at this show because I won over many very nice "specials".
Does that make me extra special??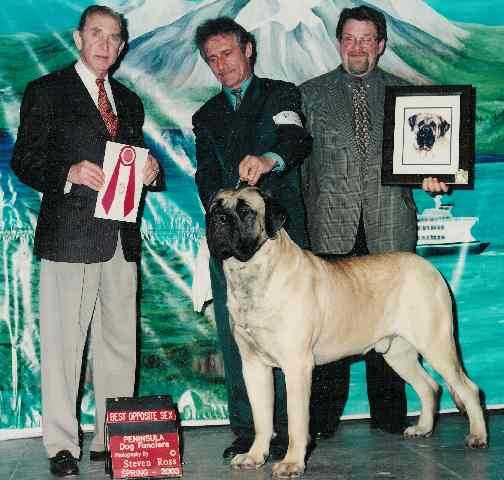 I took BOS under Judge Dr. Bill Newman at the PNMF Supported Show in Bremerton where there were LOTS of other mastiffs!!

Here I am getting BOB under Judge Cat Angus in Centralia!
It was cold, wet and slippery!! But we all kept smiling and strutting our stuff (all 33 of us mastiffs)!!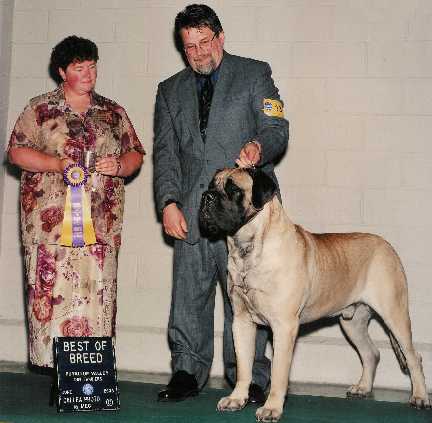 Judge Laura Hagey gave me BOB in Puyallup.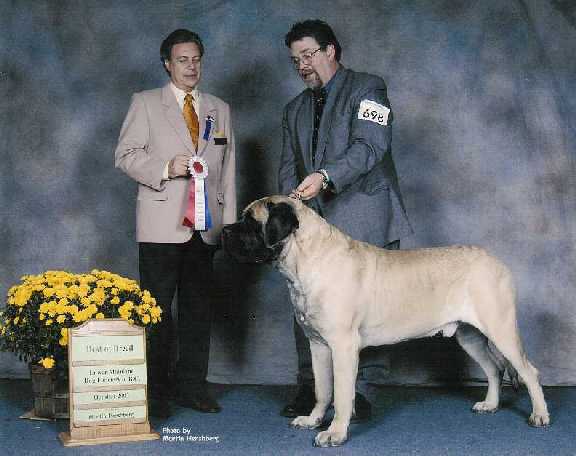 I took BOB 3 days at the big Canadian Tradex Show!!!
Here I am with Judge Yamada winning BOB and a Group 4!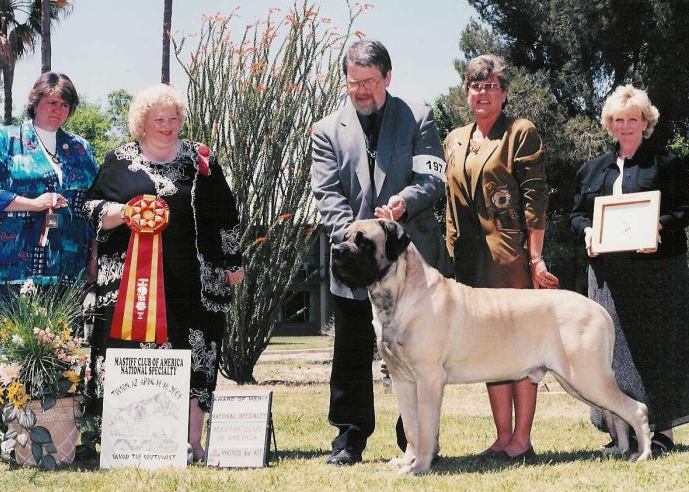 This is my favorite win!
An Award of Merit at the 2004 MCOA National Specialty
in Tucson under Judge Cat Angus!!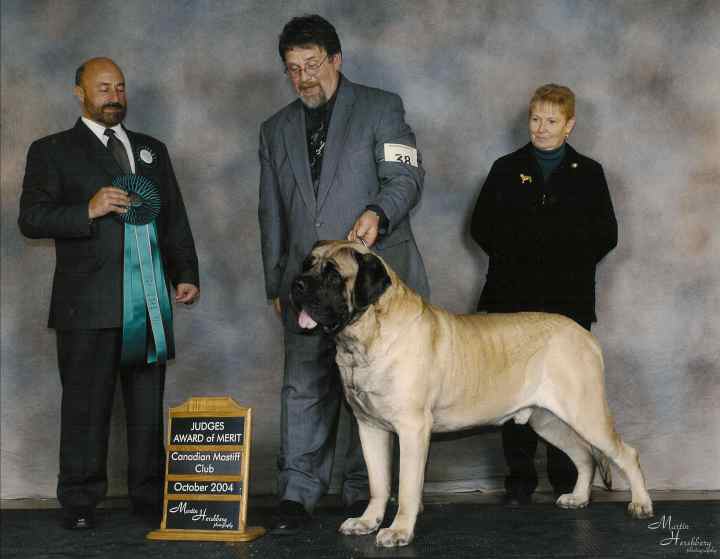 And here I am getting another Award of Merit at the 2004 Canadian National Specialty!

These are answers to the most FAQ about me:
34.5" Tall
230 lbs...and still growing!!
Yes, I eat A LOT of food!
I LOVE showing (have been told I am a "natural"??)
I like sleeping, eating & playing with the puppies the most. You should see my son "Joey"...he's almost....almost as big as I am now!
| | | |
| --- | --- | --- |
| | | |
| Czar - 6 days | Czar 5 mos Lil 10 wks | Czar loves puppies |
| | |
| --- | --- |
| | |
| Czar in a typical pose! | Czar loves Christmas! |
Evan & Cheryl Compton
(360) 966-1106
e7c@frontier.com