"WALTER'S SPIDER BITE"
I'm Walter…for all intents and purposes I was purchased as a pet. And…a sweet lovable pet I was! Mama Auri & Papa Mike were so proud of me…that they took me to a dog show to meet other mastiffs and to meet my dad Czar's owners, Evan & Cheryl. When they laid eyes on me….they said that I had to be shown! I guess they really really liked me…and kept saying what a sweet handsome boy I was!! After that, I went to some neat classes where I got treats and met all kinds of other dogs. Then I got to go to shows and win big ribbons! Mama Auri and I even made a trip to cowboy country…and I got another championship winning over several "specials"! Everything was going real good, I loved the show ring and was having fun. But, one day I woke up and my leg hurt…bad. Mama Auri rushed me to the vet as my leg was swelling by the minute. I was taken to the Critical Care Hospital. I had been bitten by a spider and was in ICU for 10 days. I guess everyone was worried that I wouldn't make it. But…I surprised them!! I'm here and I'm happy!! It took a long 4 months for my leg to heal over. Several of my Drs said it was a miracle that I didn't lose my leg….or limp from the scar that I still have. That little incident brought my show career to pretty much an end. Now, I do something we all love doing even more….therapy work! I love being with people and especially the children in the READ program. I get to do that every week!
Below are some pics of my sore leg… don't look if you're squeamish!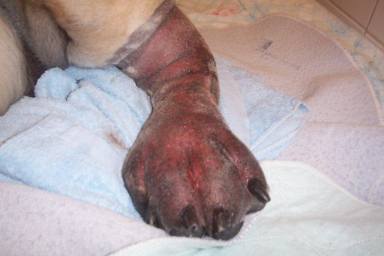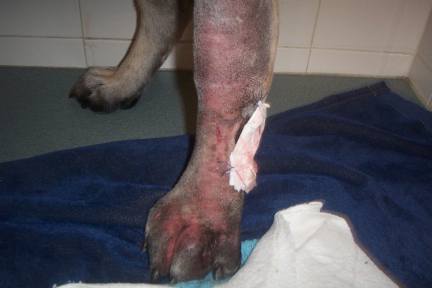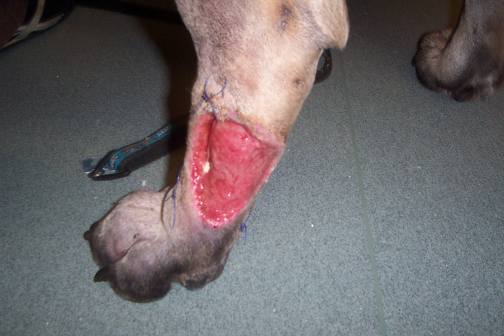 Evan & Cheryl Compton
(360) 966-1106
e7c@verizon.net